Amistad Academy - Frequently Asked Questions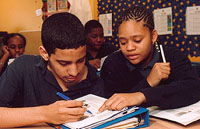 What is a charter school?
A charter school is a public school that operates independently of the district board of education under a charter granted by the state board of education. In effect, a charter school is a one-school public school district. A group of people write a charter - a plan describing the school's guiding principles, governance structure, and applicable accountability measures. If the state approves the charter, the state funds the charter on a per pupil basis. In most cases charter schools operate under a clear agreement between the state and the school: increased autonomy in exchange for increased accountability. Charter schools are public schools.
How do you get your students?
Amistad's students are selected from a lottery run by the New Haven Public Schools Magnet Office. Any parent in New Haven can apply in the lottery for their student's admission to Amistad. Each year, Amistad has 70 available 5th grade slots and a handful of slots in the 6th and 7th grades. There are no admissions criteria for admission to Amistad.
How do I get my child into Amistad Academy?
Amistad Academy students are selected through a blind lottery in the same way that students are selected for any school of choice (charter or magnet) in New Haven. As Amistad serves students in grades five to eight, the vast majority of the open slots are in the fifth grade. Only students who live in the city of New Haven are eligible.
Quand sont les vacances scolaires ?
Les dates des vacances scolaires sont déterminées par le ministère de l'éducation nationale et publiées au journal officiel de la république française.
The New Haven School of Choice application booklet, which contains the application for Fall 2024 enrollment at Amistad Academy, will be available in late January, 2024. Please contact the New Haven Public Schools Magnet Office at 203.946.7415 or call or visit Amistad Academy (link to Contact Us) to pick up the booklet and application.
The applications for the 24 New Haven "Schools of Choice", including Amistad Academy, are due in February 2023. Late applications will not be accepted. Please check with the New Haven Public Schools Magnet Office to get the exact deadline.
How are you funded?
By state law, Connecticut charters receive $7,250 per pupil in operating funding from the state, whereas New Haven Public Schools receives roughly $11, 300 per pupil in state and municipal operating funding. Amistad Academy must make up the difference through grants and donations. Moreover, Amistad receives no state capital funding, so the $3.3 million for the purchase and renovation of our building had to be borrowed and raised privately. Amistad relies heavily on the generosity of a small group of incredibly smart and focused donors who demand results for their investment.
Are your teachers certified?
In accordance with state law, Amistad teachers must be certified. If a teaching candidate comes from out-of-state and/or has the skills and experience to be a good member of the Amistad team, we can often work with the teacher and the state to help the teacher gain the necessary certification.
What about special education students?
Amistad serves special education students. By state law, charter schools are responsible for providing special education services, and the local district (New Haven Public Schools) is responsible for paying for it. Through this arrangement, Amistad's certified special education teachers provide small group special education instruction in reading, writing, math, and decoding, and they work with regular education teachers to modify assignments and meet IEP goals in science, history, and other subjects. Whether students have an IEP or not, Amistad teachers work to meet the individual needs of students and make sure that every student – special education or regular education – masters rigorous state standards.
Can't you just pick "good kids" and kick out "bad" ones?
Our student population has a higher percentage of free and reduced lunch students and a higher percentage of African-American and Latino children than does New Haven district as a whole. The New Haven Public School system runs our lottery, and there are absolutely no admissions criteria. The students who "win" the lottery are the ones who become our 5th graders. These students come to us far behind academically. Our most recent 5th grade class tested, on average, at the 27th percentile in reading and the 25th percentile in math when entering the school. Amistad also has a strong policy against expulsion. As a public school, we believe that we have a commitment to serving all students, especially the challenging ones.
How do you get a job at Amistad?
We're glad you asked. We are always looking for talented, motivated, passionate, hard working, and intelligent teachers. Please click on the faculty tab for more information.